SERICULTURE EXTENSION, ECONOMICS AND MANAGEMENT DIVISION

Section-I

Extension & Publicity

Dr. Vijay N, Scientist-B (Agricultural Satistics)

Sh. Mushtaq Ahmed, Sr. Field Asst. (Farm-03 & Labour Management)

Smt. Nilakshi Nath Saikia, Sr. Technical Asst.

Section-II

Trial of Technologies (ToTs)

All Scientists concerned
EXTENSION NETWORK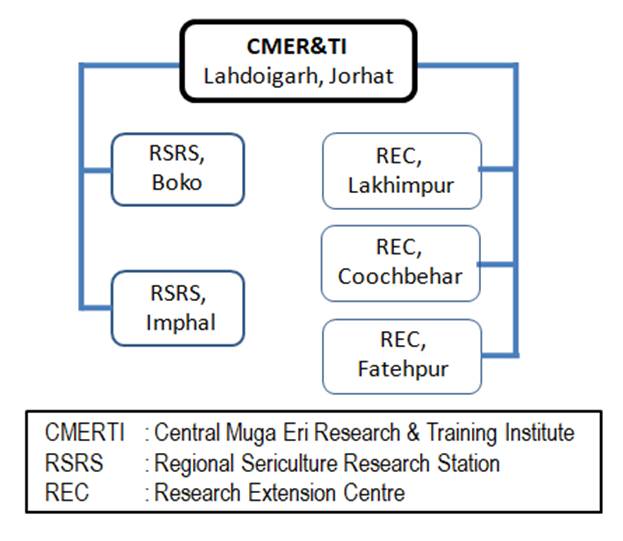 To facilitate effective transfer of technologies, developed by the institute and their validation at the field, three-tier extension system i.e. Regional Research Stations, Research Extension Centres (REC) and REC Sub-Units is adopted. The regional stations are located in major sericulture zones to carry out region and season specific research and to facilitate test verification and effective dissemination of laboratory findings to the field. The regional stations, along with the RECs under their control, are performing major works towards identification of technologies suitable to regional needs and their diffusion to field. The RECs and Sub-Units have the responsibilities of transferring technologies to the beneficiaries and also to provide all technological and input support to them.
The Regional Muga Research Station (RMRS) is located in one of the major Muga growing zones of Assam at Boko in Kamrup district. The station has been carrying out region specific adaptive research suited to the regional requirements besides providing training to farmers and grass root level extension workers.
RECs for muga are located at Tura (Meghalaya), Coochbehar (West Bengal) and Lakhimpur (Assam). REC, Tura is sharing the responsibility of maintaining basic stocks of Muga silkworm.
There are two Regional Eri Research Stations (RERS) under the control of this institute. One of these is located at Mendipathar in Meghalaya and the other at Shadnagar in Andhra Pradesh. These stations conduct adaptive research to develop ericulture suited to the respective regions and also provide training to farmers.
RECs for Eri are located at Diphu (Assam), Fatehpur (Uttar Pradesh) and Navsari (Gujarat).
REC Sub Units are functioning at Kokrajhar (Assam) and Himmat Nagar (Gujarat).
Extension Activities:
Extension programmes as per the annual action plan is implemented by the Director through the Scientist-C (Extension) for the main Institute. Scientist-D, Scientist-C and Unit-in-Charge are responsible for implementation of the extension programmes for the respective units.
The Institute organizes various Extension Communication Programmes to disseminate technologies, enlighten the farmers on different aspects of improved host plant cultivation and silkworm rearing practices / technologies.
Vanya Resham Krishi Mela: This is an interactive occasion where farmers, reelers, weavers etc. gathers and discuss with the scientists of Institute about the development technologies for increasing productivity, about specific problems associated within the culture, adoption of new technologies etc.
Workshop: It is held to discuss the prevalent field problems among the scientists and farmers. Refinement of the packages is made on the basis of feedback received from the farmers.
Field day / Farmers day: It is held locally in potential sericulture areas. Dissemination of technology is made in consultation with departmental staff and farmers for solving the field problems.
Exhibition: It is held to exhibit the technological finding/output such as improved varieties of food plants, improved silkworm races, improved reeling & spinning machines and diversified end products etc. among the public. The aim of exhibition is to create awareness among the rearers, reelers, spinners and weavers.
The RECs are also involved in the following activities viz.
MUGA
ERI
·Muga silkworm rearing
·Muga cocoon production
·Muga seed (disease free layings) production
·Muga dfls supply
·Eri silkworm rearing
·Eri cocoon production.
·Eri seed (disease free layings) production
·Eri dfls supply
·Raising of Som / Soalu seedlings
·Supply of Som / Soalu seedlings / seeds
·Raising and supply of Kesseru seedlings
·Supply of Kesseru / Castor seeds
Organize Farmers awareness camp, field days