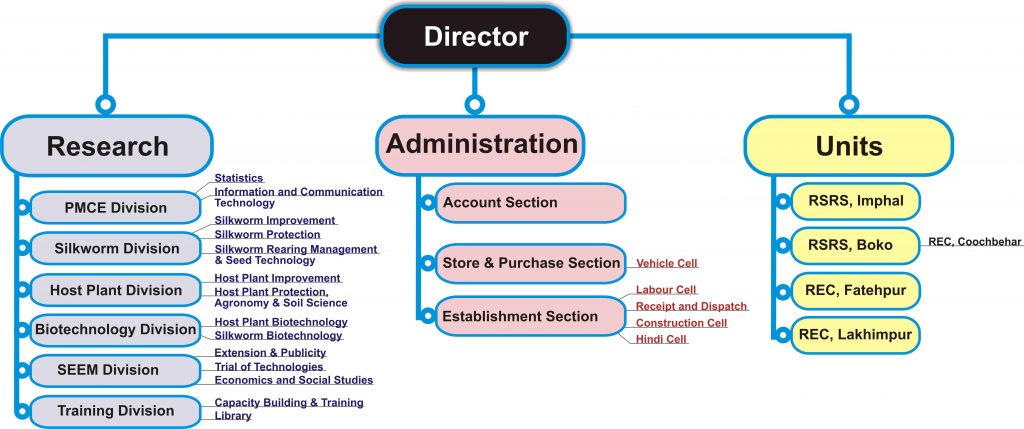 Central Muga and Eri Research & Training Institute (CMER&TI), Lahdoigarh, Jorhat is the only institute for providing research and developmental support for the growth of Muga and Eri industry in the country. The institute functions under the control of Central Silk Board, Bangalore. The institute is supported by one Regional Muga Research Station, two Regional Eri Research Stations, six Research Extension Centres.
The extension units are located in Assam, Meghalaya, West Bengal, Uttar Pradesh, Andhra Pradesh and Gujarat. About 40 scientists are working in close coordination towards development of farmer's friendly technologies, their application in field; evaluation and fine tuning of the technologies and its dissemination. Research and development activities of this institute are carried out under six major divisions, viz. Muga Host Plant, Eri Host Plant, Muga Silkworm, Eri Silkworm, Post Cocoon Technology, Extension and Training.
The institute has been conducting the research, extension and training activities on Muga and Eri sericulture and coordinating with State Sericulture Departments of Northeast region with effect from October 2001.
The deep strides on R&D aspects have been made in respect of muga and eri sericulture and their transfer to farmers through extension services and lab to land programmes. Working in close coordination with nested units the institute has spread beyond the Northeast states for the development of need based research and extension activities.
The research endeavors thus carried out provides necessary guidelines to the sericulturists and self help groups. The Research Advisory Committee reviews and suggests for the progress of research activities of the institute. Further, the institute conducts Research Council and Extension Officers' meetings to sort out the issues and review the progress of the projects and extension activities.